Women UNITED for uterine health
Womb Sweep is now effective against 4 types of uterine fibroids.*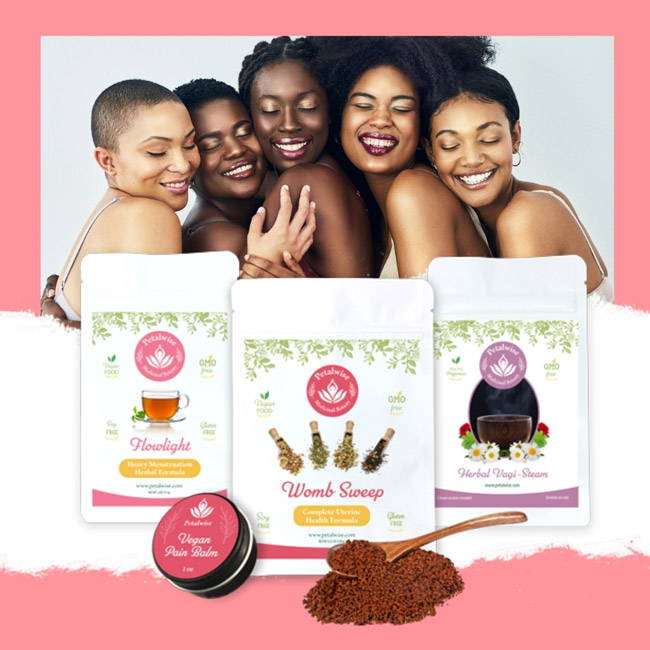 Our all-natural one month kit is designed to harmonize your monthly cycle. Whether you're maintaining optimal womb health or are addressing a condition, Womb Sweep includes solutions for all your holistic health needs.
Kit includes
Womb Sweep Herbal Formula
Vegan Abdominal Pain Relief Balm
Flowlight Medicinal Tea
Herbal Vagi-Steam Pack
Self-care guide
Instructions for use
Nerve Nourisher & Mood Balancer

All-natural ingredients known to balance emotions, rejuvenate the adrenal glands, and unblock chakras.
For symptoms of fatigue, brain fog, sadness, grief, lack of creativity, mood instability, lack of confidence, stress, low libido & poor memory.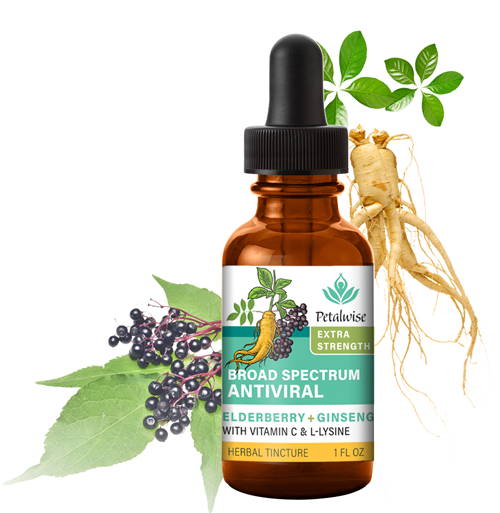 Antiviral Herbal Tincture
with Elderberry & Ginseng

A good offense is often a stronger defense.
Fortify yourself and your family with our new broad-spectrum, antiviral herbal tincture. When used as directed, this formula can be used as a preventative or to treat symptoms of viral infection including, fever, cough, inflammation, muscle ache, sore throat, headache, rash, nausea, and vomiting.
Complete Uterine Health Formula
Instant Dissolve Granules

Regulates menstrual cycle
Nourishes the blood
Reduces abdominal pain
Alleviates distension
---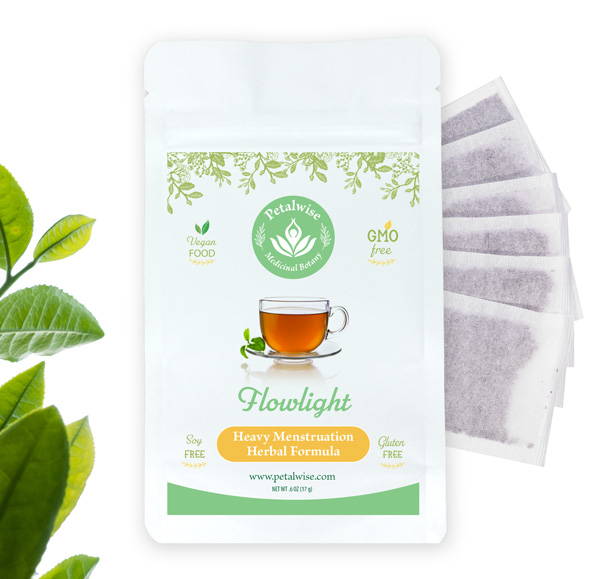 Menstruation Reducing Tea
Soothes irritability
Relaxes the body
Gently remove water weight bloat
Reduces heavy menstrual bleeding
Shortens long periods
There's no compromise when it comes to our standards. Petalwise products are produced by methods that require no chemicals, preserve ecological balance and promote biodiversity. Be assured that you are consuming products that have no genetic modification, pesticides, chemical additives, and are non-irradiated. We only use organic raw materials in crafting our superior-quality products, period.
As dedicated stewards of Mother Earth, we go out of our way to reduce our carbon footprint as much as possible. This is why we only source from eco-conscious suppliers that share our vision for a sustainable marketplace.
We support woman based organizations and several charities that look to empower women in the workforce and education. Every year we select organizations that embody our mission.
Need help choosing a regimen?

Virtual health consultations now available through our sister company and South Florida clinic. Speak directly with a wellness authority and supportive mentor who is not only an expert on Petalwise™ products, but also a veteran in the field of holistic health and nutrition, with 15 years of experience in women's reproduction. During your phone or video consultation, we'll review your current health, answer specific questions and unpack your journey leading to the present day. Once a clear understanding of your needs has been assessed, we'll be able to guide you on exactly which of our products, foods, and habits will help support your short and long-term goals.
"My doctor told me the only hope I had was surgery – complete removal of my uterus, I decided to try Womb Sweep instead. After 3 months, I noticed a big difference in the size of my belly, it was miraculous!"
"Womb Sweep is the closest thing to a cure. It changed how I feel every month, it's like I can do so much more with my life now."
"Petalwise makes their products easy to use, they always have instructions for you to change your life, without being to stringent or judgmental, it fits into my lifestyle, and it works, period."
"Yoni Pure is a serious detox for the female body. Not only did it clear up a serious infection I had, but it helped clear my skin and improve my digestion. Be prepared for a major flush-out!"
"Steaming my private parts makes me feel like I'm a part of something greater than myself, like I'm being initiated into womanhood through some divine ritual. I highly recommend you try it, as a gift to the spirit."
Sign Up For Our Monthly Newsletter
Register today to stay informed with latest news, healthcare tips and promotions from us.
Thanks!
This field is required
This field is required
This field is required
*Womb Sweep success is based on customer feedback
and data compiled between 2014 and 2018.